Flush-Trimming Jig by Jim Mattson

---
Regardless of how traditional (Neanderthal...:-) your woodworking interests, at some point in your career you're going to face the problem of applying a wood edge over a composite core. Uncle Harry will ask about some budget cabinets or Aunt Martha will want a cheap coffee table. Face it - the time will come.
When that day arrives you'll confront many decisions: what type of panel to use (plywood, MDF, Melamine, etc), whether to buy or make the edgings or what's the best glue to use. Typically we don't consider alternative methods for flushing panel edges because routers sporting flush-trimming bits are the 'tools-du-jour'.
If you're already familiar with flush-trimming bits, you've probably experienced differing meanings to what is termed 'flush'. In many cases the bit does it's job admirably; it's bearing follows the panel surface exactly while we balance the router precariously on the wooden edge with the careful skill of a surgeon. A couple swipes with the sandpaper and we're done. Yeah...right.
In many cases the bit isn't exactly flush; where the cutter grinder and the bearing manufacturer aren't necessarily on the same page. Sometimes the bit is more than flush; taking a bit of the panel with it. And what about those nasty bearing marks - more dents to sand out of softer wood panels and killers to a clean melamine job. Each time you send your bit out for sharpening you can add extra minutes for sanding. Just flush that flushness down the toilet.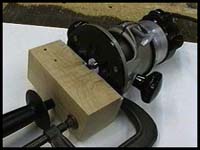 During a recent commission I got the chance to explore flush-trimming in depth and came up with the following jig;

Instead of a bearing to register the depth of cut, this jig uses a block of wood for a fence, clamped and lagged to the base of the router. The overhanging edgebanding moves into a rabbet recess in the block where it's trimmed flush by the router bit.
Overview - This jig isn't anything new. I've used similar setups for a router table and a friend applies this technique for flushing laminate when covering cabinets with Formica. In his case, a small block mounted to a laminate trimmer base rides smoothly over screws where a router bearing would gouge the cabinet's corner.
This is something to think about when flushing edges applied to panels with thru rabbets and dados - the wooden fence just rides over the dado unlike a bearing which falls into the recess, gouging the edge.
There are two advantages for the hand-held method over adapting something similar for a router table. The short router base and fence will follow any irregularities in the panel like crook or bow better than a wide router table. With some test cuts performed on scrap, you can get nearly EXACT depth of cut in two directions.