Rog,
I forgot that fix was in response to a specific issue. The boards had been run through the jointer and planer, so everything was hunky-dory up to that point. However, since I was using longer boards, I didn't cross-cut them on the table saw using the mitre gauge. I used my radial arm, which I typically use for rough cuts only, so it was not anywhere close to being dialed in. The resulting cross-cuts where not perpendicular to the face and edge.
I knew that when I clamped up the issue with the face would more or less self correct and could be smoothed by sanding or planing. The problem with the edge however wouldn't be as forgiving, there were small but noticable gaps during dry fit where edge grain came together, so that's why I came up with the fix. I just forgot that when I posted.
I do have another little trick.
I mix my own shellac and even though I grind the dry flakes down to much smaller size, remembering to go shake the jar now and again to avoid clumping didn't alway happen. I know that eventually the clump will dissolve, but sometimes I needed the shellac today rather than tomorrow.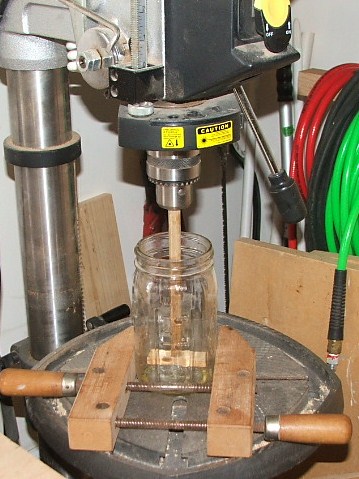 See ""
A simple dowel with a cross piece attached, chucked into the drill press at low speed became my automatic stirrer. The clamp is to keep the jar far creeping. And since the mixture is constantly being agitated, the flakes dissolve VERY quickly.