Hey Folks,
Thanks to everyone who stopped by, it's the people that make the party, not the pig.
We had a great time hosting the shindig, and look forward to the next one (after a little recovery time).
It was great to finally meet Lawrence and family, after about ten years of correspondence.
Thanks also to all the picture takers. I'm so busy during the party that I never have time to shoot photos.
The one shot I did take was early in the morning before I washed the salt cap off of the pig. We can add this to Dennis' chronology.
Two boxes of kosher salt dry the skin overnight, so that it will soak up the fat. Then, when it's directly under the fire, it pops like popcorn and makes a wonderful crunchy, porky morsel.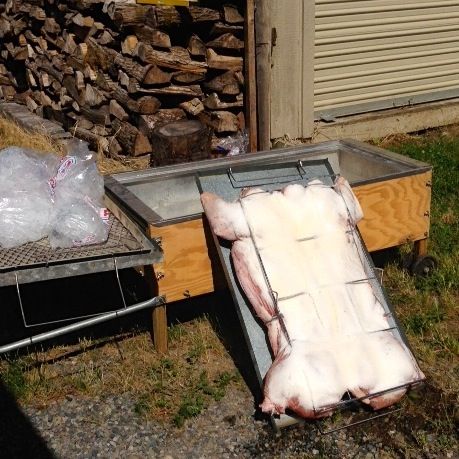 Cheers,
Tom