Well, I've decided that I want to store my teardrop travel trailer in my garage this winter. But, my lumber storage rack was in the way. So, I'm rearranging my garage to accomodate both my Escape and my teardrop, but keep the lumber, table saw and other tools in there, too.
I started moving all of the lumber to my sawhorses out in the driveway yesterday. About halfway through that, I realized my plastic sawhorses were bending a bit. So, I drove to Daddy's house and borrowed his sawhorses. And, I proceeded to load both sets up.
I lost my energy about 7 pm last night after moving the almost empty shelf to the opposite wall. I strapped a large tarp over the hardwood lumber in the driveway.
I started again this morning, marking each board with species and putting them on the shelf. WHEW!!! I knew I had a lot of lumber, but I sure underestimated the time this would take.
The lumber rack is 8 ft long, 2 ft wide, and 6 ft tall. I need to put straps from the top shelf to the wall so the lumber on the top doesn't fall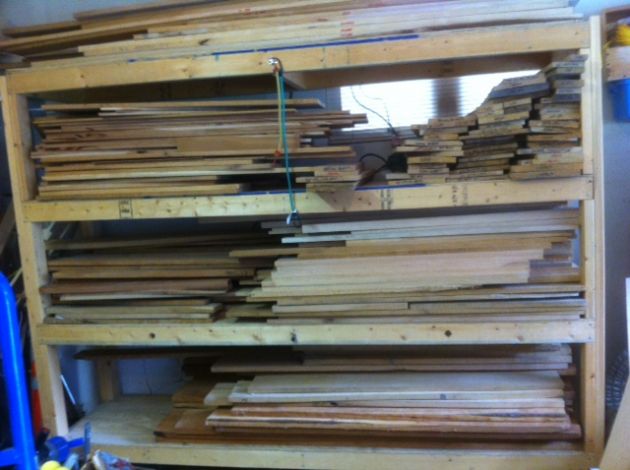 See "Newly moved and reorganized lumber shelf 10/29/12"
Cherry, walnut (don't tell Chance), hickory, red and white oak, sycamore, maple, ambrosia maple, mahogany, poplar, some exotic wood that starts with "cu..." (I forget what it is), purpleheart, and probably some species I forgot.
I think it's time for me to start doing some woodworking in my retirement. I certainly can't use the excuse of not having any lumber

Verna