I got home from work last night, planning to continue work on the very late Christmas boxes, but I found a rather large box on the door step from Lee Valley.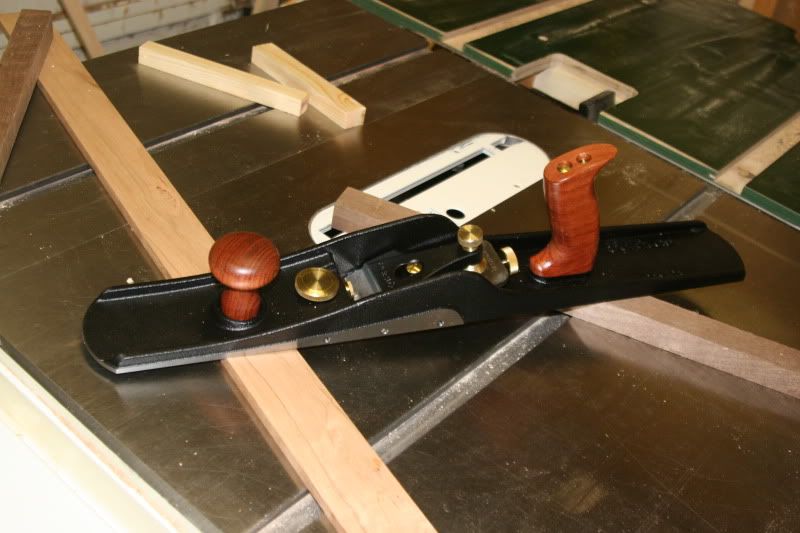 My new Bevel Up #7 Jointer plane is here. I rushed it right into the shop and got her opened and out of the bag. The first thing I noticed was that the sole had a large plate that hung down almost 1/8". Then I noticed the loose brass knob still in the bag and realized that it is used to tighten the adjustable mouth. OK, I got that on and it looks great.
Pulled the iron from it's box and bag and got it into the plane. What a massive iron! A quick adjustment of the iron and mouth, and I chucked up a scrap of pine and after about 5 strokes I was pulling a smooth, translucent ribbon with each stroke. I was in love!
I just didn't want to stop, but I do tend to be a little anyliticle about toyls, so I ran a head to head comparison between it, the WoodRiver #6 and my Stanley #4 Smoother. The #6 left the roughest finish, the #4 was next smoothest, but the #7 was by far the smoothest of the 3. This is one amazing plane.
Finally, I just had to pull the whole lot for a family picture, although I forgot to pull my draw knife for the pic.

BTW, the shavings by each plane were pulled by that plane.
In the back is an old #4 that was given to be by an old friend, it's almost all stamped metal and junky but makes a nice wall hanger. Next to it is my first plane, small cheap block plane that helped me shape a lee-board for a sail kit I made for my canoe, and it still pulls a good shaving. The main row from the left:
Windsor wooden shoulder plane
Kuntz bullnose plane (Green and red)
Lee Valley wooden round over plane, great little plane for the money.
Stanley #60 1/2 low angle block plane, one of my favorites.
Stanley #60 Block plane, another favorite.
Stanley #4 Smoothing plane, another favorite.
Buck Brothers #5 Jack plane, $35 at Homey, pulls a respectable shaving but needs work and I'm not sure I want to invest the time in it.
WoodRiver #6 Fore plane, very heavy and pulls great ribbons, destined to be a favorite.
Lee Valley Bevel Up #7 Jointer plane, DROOL CITY here folks.
Stanley #80 Cabinet scrapper.
Stanley Flat Spokeshave
Stanley Round bottom Spokeshave
China flat spokeshave picked up at a tool sale for $1, actually pulls a good ribbon.
Back to the left are my toy planes:
Windsor wooden scrapper plane, next to the shoulder plane.
Windsor wooden chisle plane, boken, but still works on soft wood.
Lee Valley, mini shoulder plane, tough to hang on to, but works really well.
Finally a pair of junky wood and brass planes, (the 3rd one is in my office as a shelf setter), they really don't work well at all.

All in all, a great night in the shop.

Thanks for looking and comments welcomed.
_________________
Frank
WWACOAUX#1
"I love the smell of Sawdust in the morning, it smells like, victory."
WWA'ers I've met: Popeye, Ed Avery, Stephen Wolf, Rockfish, Rodedon