Well, ok, I didn't really blow it all up- just the capacitor. I never thought that I would work a machine so hard that it up and die on me. It apparently got so hot that it even deformed the housing that it was in. Here's what I looks like now-

See ""
Fortunately everything worked according to design and the capacitor gave out instead of frying the motor. I'm glad they think of those things when they design the machines we all depend on! I almost thought it was time to buy a new motor but the tech support at MiniMax pointed me in the right direction. This was the first time I'd ever experienced something like this other than breaking a band saw blade.
I was spending the day cutting blanks for wood rocks I use in a coat hanger and had the saw running for several hours straight. I never would have thought it would take down my saw as I wasn't putting much strain on it (or so I thought) but there you go. Here's a shot of one box of blanks. They're all pretty small pieces of wood and the species vary from bigleaf maple to honduran rosewood root.

See ""
The end result looks like this-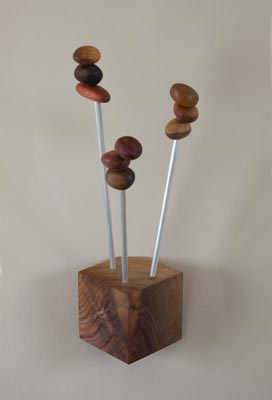 See ""
Anyway, it was a new learning experience for me regarding the construction and durability of my bandsaw.